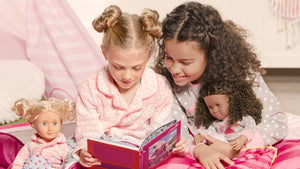 Welcome to Our Generation®! For over 25 years, we've been inspiring young minds to be contributing members of society through a community of empowerment and play: a place where all children can laugh, learn, dream big, and grow together. Filled with endless stories and exciting possibilities, Our Generation dolls, outfits, books, and playsets come to life in the minds of children while encouraging them to create the narrative of their generation.
Whether it's speaking up for those around them, taking leaps to develop big ideas, or embracing new opportunities, children have always had the power to make a difference—without ever forgetting to build lasting memories along the way. Their dreams have no limits. Their voices echo around every corner. And they have the strongest belief that they can make anything and everything possible with their greatest gift: imagination.
Our Generation® is available in more than 25 countries worldwide and sold at major global retailers. Visit Our Generation® global home site here – ourgeneration.com
While you are here, Say Hi to some of OG's friends
Friends of Our Generation
Glitter Girls
14-Inch dolls & accessories.
Bringing to life a world of creativity and fun, the Glitter Girls help children find the sparkle hidden in every day. Through their colorful fashion and vibrant personalities, the Glitter Girls embrace friendship and encourage self-confidence.

Visit Glitter Girls website:
myglittergirls.com
Li'l Woodzeez
Cute Animal figures & Accessories

Where all the woodland creatures work together to take care of each other and their environment. Every animal family has a special job to make every day an adventure. Let your imagination run free in the world of Li'l Woodzeez.®

Visit Li'l Woodzeez website:
WOODZEEZ.COM
B. toys
Play by your own rules
Quirky and unique, our toys are meant to inspire children's individuality. Unexpected colours, intriguing patterns, sensory textures, and features that are as playful as they are educational! Timeless toys to be passed from one generation to the next.
Visit the B. toys website:
btoys.ca