It's almost time again, get ready with class!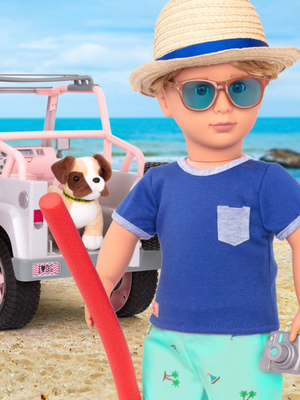 Plan the perfect summer fun activities with OG dolls, vehicles, and fun accessories!
OUR GENERATION
This is OUR story
Our Generation is bigger than a toy company. We invite girls into a community of empowerment and play, a place where their collective voices create the narrative of their generation.
Shop Now
How parents and kids feel about Our Generation!
★★★★★

OG Pizza Oven Playset

"Super cute accessory! - I have started collecting Our Generation dolls and their accessories so this wood burning oven was a perfect addition! It looks super cute when lit up & the detail is absolutely beautiful!! Looking forward to purchasing more from Our Generation brand because they never disappoint!"

Meyo

Lexington, NC
★★★★★


Marissa 18-inch Camping Doll
" Super cute - Super cute I love the attention to detail. All the accessories had detail that was amazing.. Great quality I have 0 complaints about this my daughter loves it. The quality is amazing as well you can tell that when they created a product they really thought to make it durable."

New Pozada215

port richey fl
★★★★★

Hally & Classroom Cool Locker Set

" So cute - My daughter loves playing with this doll it keeps her entertained for hours and she takes it everywhere with her. I love how the doll came with a bunch of accessories to go with it makes it worth the money paid"

Jb04

Alabama
★★★★★

Fun Fur Fall

" Fun Fur Fall - Excellent quality. Extremely well made and imaginative choices."

Nana

LEast Anglia
Our Generation
With our heads in the blue sky and our feet planted firmly on the ground, we're changing the world without ever forgetting to be kids.
Shop Now